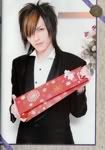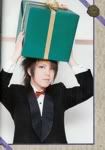 For original scans click
here
PA
RT 1
Q : [JEWELS] is a very good song!
Shou : This song, I did it with Saga kun on the telephone (laugh)
Q : During interview last time, after doing music selection meeting, have you finished making the song?
Shou : During the second meeting for choosing the song, Saga kun was 30 minutes late, On that day we had to decide that it's time to do the cleaning in 2006. He was late, it appeared like the he had finished the song.
Saga : …… probably
Shou : After all, we all agreed that Saga kun song is decided to be released in March as single, then Saga kun did the cleaning
Saga : It seemed like the people at the office were able to forget it, it was kind of a promise to me
Q : So how did you make the song?
Saga : At this time, I tried to make and also change many songs. Until now I have made the song melody, I have make a sketch when making a song, Now, It's the first time I use acoustic guitar to create the melody. [NUMBER SIX] (DVD Single) the last official CD which was released 1 year ago, isn't it. I think I'd gradually do a new thing, I try to change my technique in making music
Q : Although the PC is broken, you can do it with "manual" way too (laugh)
Saga : It's different (laugh). It was tape recorder, now it's time to play with the chord while humming the song
Nao : While I was listening to the acoustic guitar at the station, I felt like I was improvising the song
Saga : So close, So Close. I felt like that in my house
Q : And then, what is the member impression about this song
Nao : It's wonderful, I think. The Drum Pattern change frequently, it was distressing. I thought about Saga kun's image and my good balance in playing drum, there was various attempt at first, And finally I found the form. Saga kun was [This song, we have to seize the Drum part, it's the key] he said that after all of the hardship, and it went really smooth.
Saga : Melody song is the most important job. The basic is simple, once you play it you can continue playing it, I think that's how I feel. The note, Phrase, all of them just intrude while snapping the bass.
Tora : First time I listened it, I thought this will be a 'popular song'-type. From the beginning the melody is very high, I listened it in karaoke version. And I got the feeling, after it's finished, it became Alice Nine. music, We had a serious digestion. But, surprisingly we had a good impression. For the guitar we had to check it so it does not make a noisy sound. In order to get the sound like that, there're many things to think about.
Hiroto : When the song's been decided, the tempo and the feeling inside the song, how many times we have to change the arrangement, but finally it was almost close to Saga kun's current demo. After we're done with VOCAL and the Synthesizer, I felt there's a doubt in what should I do with the Guitar since it's coming after the vocal. It's difficult to take the balance between the song and the band impression. My guitar part is simple but, it's difficult to snap it. It's before the guitar interlude zone. So we considered how long the band will be ready. Although the phrase was calm however the tempo is 16, that's difficult. But the biggest enemy was the time (laugh)
Shou : Some time ago I said, I sang the song to Saga kun on the phone, It was kind but there's a bit of fear (laugh). It's more gentle, I guarantee that it's different from what I sang on the phone. With his effort, Saga kun created all the melody with his image carefully. Saga kun created the east-world concept, the melody from 9 had to be cut into half. Judging from the vocal, If Saga kun presentation was cut from 9, it's not possible to sing it, I felt about that too. Isn't it right? [歌ですけど、沙我くんの世界に東ってみようというユンセプトで、メロディは九割五分
くらい変えてません。ヴォー力ルのジャッジもやってもらったので、沙我くんの表現した
かった世界を九割くらいは歌えたんじゃないけど、自分では思っています。どうなんでし
ょう?]
Saga : I was, "this song has to get in" Up until now, the most important is time, I felt I like it when we're recording the voice
Shou : When I did the melody, I like the line and also the sound so generally it's been decided, isn't it. Therefore, concerning the result from how we did it, I think it's pretty good.
Q : Was there any problem, Saga-kun?
Saga : Yes …
Shou : Saga kun has self confidence on the melody, it's special, you could sing the song which is easy to hear. From the beginning, the Vocal has to be powerful, so lately I listen to everyone's on the song, perhaps seeing from everyone's various expression. [??] I tried to sing with the tone and blend with the song emotion??
Q : The lyric was sung based from a memory of a person who break up ,isn't it?
Shou There's request from Saga-kun, LOVE SONG
Saga : If you ask how you sing it, it's suitable for a love song, that's the request
Shou : Maa, leave it to me (laugh). With the descriptipn of person's memory, there're various side which are visible even when you treasure hard, it made the lyrics have such an image and episode which are related
Q : How about the other two songs, is it been decided?
Shou : It's a demo since 1 years [ワンユーラス分のデモはできてて], we'll do the recording soon
Q : Which songs?
Shou : One song is written by Saga kun with his POP touch, and the other song is written by Tora kun, it's a violent/rock song. The single is focusing on Saga after a long time, You can feel the alice nine. athmosphere I think people will like it, everyone must listen to this single.
PART 2 : VALENTINE'S DAY
Q: Let's change the topic, please tell us your Valentine memories. Hiroto kun, it seems like he's first.
HIROTO: Ee, it started from me (laugh). Valentine, the basic is to accept someone's side of word, isn't it? At the photoshoot, we're holding a present, somehow I didn't get it.
EDITOR: Those are foreign country's image (of V-day)
HIROTO: So, you did not receive it ... As for receiving, it's like at kindergarden time. I had an impression, at Elementary school for 3 years, i was a transfer student. On Valentine's day I was at home making GUNPURA (gundam plastic model), a friend come to visit, 「a transfer student wasn't it, you're the last」, I was given a chocolate. Somehow, I felt like it's like a souvenir from the other world (laugh)
NAO: don't die~!
HIROTO: This chocolate was handmade, it was SOOO delicious, only one bite a day it's my decision so I ate it carefully. But, I moved out again, this stage was nothing ..., it didn't break my heart. Being a man, I went to Shizuoka by bicycle but, As you may expect going there for 3 times were taking out your energy
TORA: During my grade school time I became fat, I received the entire chocolate however, A girl was 「You will get fat, You better not eat chocolate again」, I felt it was an extremelly irritating Valentine-san. But, for 6 years and annualy, Valentine comes every time. It was mortifying, After entering middle school, I did a diet.
NAO: And then you go to school by track [walking]?
TORA: Yes, and then I collapsed (laugh)
NAO: Me, right now, 「receiving all the way, don't you think?」, I was lonely. During high school time, I was in all boys school however, (from a boy) I received a hand knitting scarf. At that time,I though I didn't use it, I mean the hand knitting however, I felt it's really amusing. It was my valuable experience. Valentine is the best at all, it's a dark time at elementary school, don't you think, Hiroto kun
HIROTO: Why, why me (laugh)
NAO: He's a little awkward, it's lovely. Therefore, I had to gave my time, everyone, please (laugh)
SAGA: Me to, I went to Valentine at school. At elementary school time, on Valentine, a man's value is being decided
NAO: Although there's no official announcement
SAGA: But, I didn't get it. The school had a one day off , so I went to a girl's house, gave a letter and had ramen (laugh)
SHOU: Woman's heart, it's difficult
SAGA: You did not know they like it or not. I like it, There's no chocolate and candy. Ramen was ……. But, the next day, I had the capacity of being a man, I was fluttering about it. My "victory collection" aura, it's released (laugh)
SHOU: However my V-day memory …… there's no pride, i didn't get anything during middle and high school ……
NAO: Really, it's sad~
SHOU: If I recalled it, my tears will fall
HIROTO: It's really gloomy~
SHOU: During elementary school time, there's something happened on occasion. Nowadays, the things I received from fans bring me happiness, everyday was really heart-breaking.
Q: Among the members, the one that not miserable, was Hiroto kun right?
HIROTO: Me too, I had something miserable. Being called by a girl, I felt like I kept thinking 「xx-kun is everything」
NAO: A~a, that's me!
SAGA: It's good, that one. We through it all
SHOU: somehow, it's not exists...
Q: What a miserable Valentine memories, it became a pitiful pride, see you next month (laugh).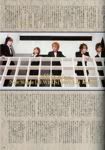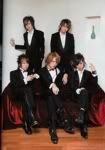 Credit:
JRockNoyakusho
@LJ